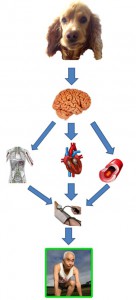 Any dog owner knows how Fido brings joy and friendship, but not all owners are aware of the physical and psychological health benefits that accompany the pleasure of snuggling up to your furry friend. We not only share our lives with a pet, we are actually being accompanied by a canine coach and therapist.
Hence, the American Heart Association has declared how the ownership of a dog leads to reduced heart disease and lower blood pressure, while longevity and survival are improved.
This is based upon numerous scientific studies that meticulously have explored the health benefits of the human-dog bond.
In fact, when people suffering hypertension adopt a dog, their blood pressure declines significantly within a few months – without the need of medications. Continue reading →