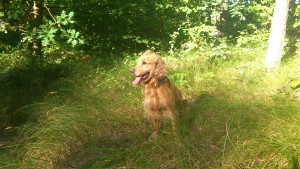 Owning a dog or simply walking someone else's dog can make you lose weight. Several scientific studies link canine company to weight loss, and among these a one year-long study showed how walking your dog leads to a significant weight loss, without changing diets.
As explained in the book Dogs & Human Health, research shows that a dog provides support in similar ways to a human friend, except that the dog does so with much greater consistency and dedication, and there's more: the dog does it without any negative influence.
When people walk a dog for 10-20 minutes five days a week, they on average lose at least 7 kilos per year, and on top of that their amounts of fat (as measured by their triglyceride and cholesterol levels) were significantly reduced.
In other words, if you need to drop a few pounds in a fun way, find a dog and get going.
If you think you can do without the dog, you're wrong, since only a dog can make you stick to the plan.
Buy Dogs & Human Health here: http://www.amazon.com/Dogs-amp-Human-Health-Science/dp/1452529027/ref=sr_1_2?ie=UTF8&qid=1437477614&sr=8-2&keywords=penkowa+m